Yale College students may register for classes in Yale Course Search,  during their designated registration period and during the add/drop period.  See the Registration Calendar for important registration dates.
Search for a Course
Log into Yale Course Search and perform a search to find a desired course (if you know the course number) or to find all the offered courses in a specific department. You can also perform a word search, for example, the word Music pulls up all courses that mention Music in the course title. Click a course from the results to see its details.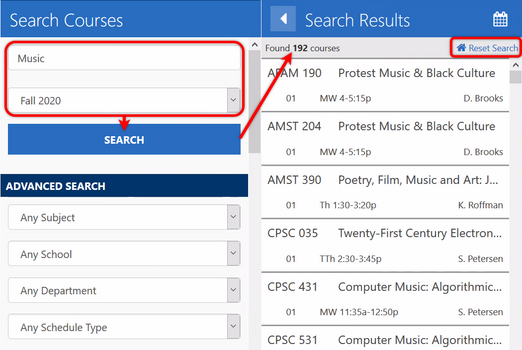 View Course Details
Review course information, including the course description, distributional designations, instructors, meeting information, class notes,  course resources, and any special registration requirements.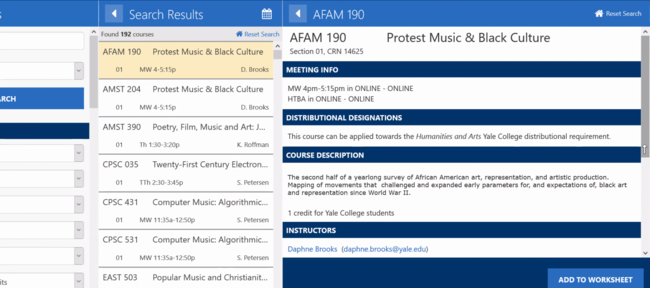 Clicking an instructor name shows you what other courses the instructor teaches.
If enrollment for that course is managed by Preference Selection or has some other admissions process, see the class notes section for details. Not all courses have class  notes.
Buttons in the course resources area may include Course Evaluations, Syllabus, Buy Books, and Share.
Add the Desired Course to Your Registration Worksheet
Click the "Add to Worksheet" button. Make sure the you have the registration worksheet selected, and click OK.

Once a course has been added successfully to your registration worksheet and you see a black check mark, you are officially enrolled.
NOTE: If a message states "Concurrent enrollment in [course name here] is required," you cannot register for the selected course/section without also enrolling in the course indicated by the message.
When Instructor Permission is Required
There are two scenarios when you will encounter a class that requires an instructor's permission to register.
An instructor chose to set up a class to require permission for registration.
A class has reached its enrollment capacity.
1. Add the class to your registration worksheet.
2. In the REQUEST INSTRUCTOR PERMISSION section, enter the justification for your request.
3. Click the SUBMIT REQUEST button.
The worksheet contents will show the class on your worksheet with a pending status, awaiting the instructor's approval. Once approved, you need to complete your registration.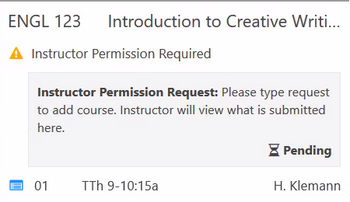 TIP: While you are waiting for approval, you can add the course to your Canvas worksheet to gain access to the Canvas site.
TIP: You should consider alternate courses in case there is not a seat in the course and the instructor does not approve your requst.
Completing Registration after Instructor's Approval
Check Yale Course Search periodically to see if any instructors have approved your requests. You can view your registration worksheet to see all your course selections.
Click View. The Search Results screen will show all classes for which your requests were approved.
Click Confirm Changes at the bottom of the screen. This action confirms your enrollment.